Zhongtong 8.5m and 10.5m Electric Buses Put into Market Operation
2014.05.23
Recently, Zhongtong Bus, China's leading brand for energy-saving and new energy buses, rolled out 8.5-meter and 10.5-meter electric buses. According to Ministry of Industry and Information Technology (MIIT), the two green buses are entitled to enjoy 400,000 - 500,000 RMB subsidies from government for their high fuel efficiency. Thus, the two buses not only help its operators cut purchasing costs dramatically, but also bring great environmental benefits to the local residents.

The two electric buses, with the model number Zhongtong LCK6850EVG and 6108EVG are independently developed by the bus maker. Wholly powered by electricity, they can both put into operation for urban transportation or inter-city transportation. To make them lighter and more fuel efficient, Zhongtong has further upgraded their interior design, motor control, energy management, recycling and system integration. In addition, their lithium-ion batteries can be conveniently recharged and replaced. Also, with inverter air-conditioner, CAN and intelligence electronic control technology, the two green buses fully meet current passengers' rising demand for high safety standards and eco-friendliness.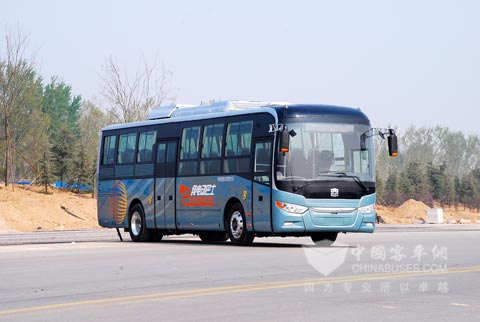 Zhongtong electric bus LCK6108EVG

Equipped with RHS steel tubular body frame, air suspension, front and rear disc braking, alloy wheel, highly reliable chassis, high energy lithium-ion battery, low-speed high-torque permanent magnet synchronous motor or AC asynchronous motor, the two new bus models boasts three highs (high reliability, high safety standards, and high fuel efficiency) and three lows (low net weight, low energy consumption and low occurrence of problems). According to staff from Zhongtong, the two buses can operate for 150-200 km continuously and their energy consumption is lower than 1Kwh/km.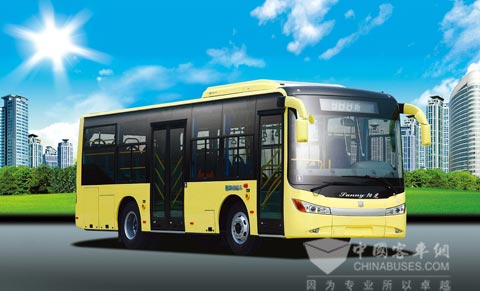 Zhongtong electric bus LCK6850EVG

Recently, Zhongtong Bus has been constantly speeding up R&D and the industrialization of electric vehicles. In 2008, its Olympic electric bus made a spectacular debut at Beijing Olympics by appearing both at the opening and the closing ceremony. To date, the bus maker boasts a comprehensive product line, with buses ranging from 6.6 meters to 14 meters, which provide many public transport solutions for its customers